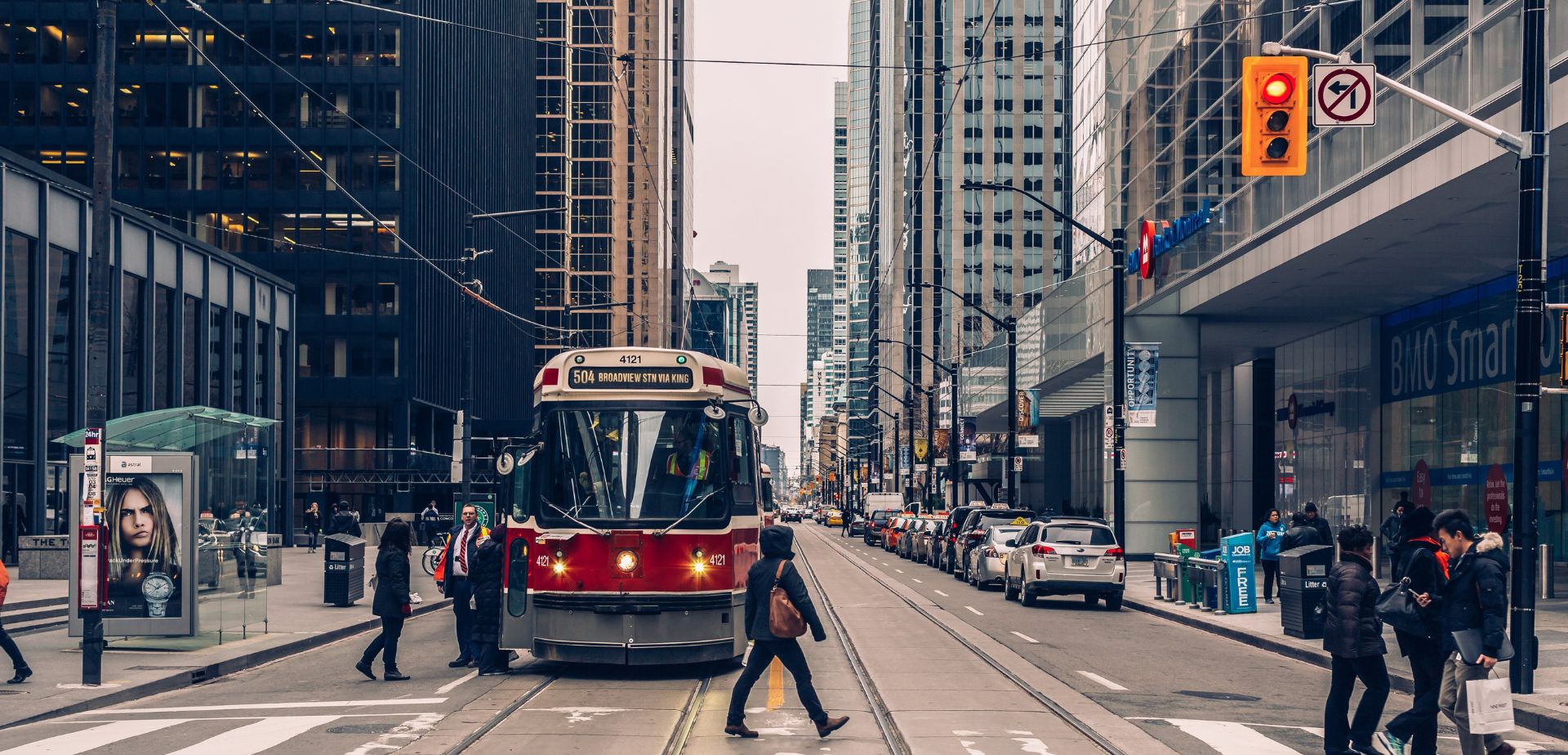 Top 5 Areas With Great Walk Scores in Toronto
The Toronto real estate market has been red-hot for years, but condo dwellers want more than just a picturesque skyscraper view; they want convenience. Luckily, with Toronto being the 2nd most walkable city in Canada after Vancouver, there are plenty of condos in top neighborhoods downtown that boast excellent Walk and Transit scores, making city life a breeze for all those who wish to move here.
The Walk Score methodology is determined by a buildings' proximity to places like grocery stores, restaurants, schools and nightlife. The most coveted neighbourhoods will not only have walkable routes to those spots, but will likely offer a variety of options to choose from, awarding the building or area a score closer to 100. Transit Scores, on the other hand,  are calculated based on the buildings' distance to the closest public transit option and its operation frequency.
The higher the transit score, the more accessible the building is. Together, the Walk and Transit score make up the fundamental considerations of renters and buyers looking to call the city of Toronto home.
Discover the City of Toronto's Top 5 Areas with Great Walk Scores
With Toronto being one of the best cities in Canada for walkers, it's no surprise that there are multiple neighborhoods that offer great walk and transit scores. However, we'll hone in on the top 5 areas today:
Bay Street Corridor
Walk Score: 99, Transit Score: 100
As one of Toronto's most densely populated neighbourhoods downtown, it makes sense why  the Bay Street Corridor is so high on our list. Situated within walking distance to the Financial District, the Discovery District, Toronto City Hall, and both Toronto Metropolitan University and University of Toronto, the Bay Street Corridor is as close to perfect as you can get. Having attracted a large population of young professionals and urbanites over the years, the area has developed into a Walker's Paradise, offering proximity to key areas in Toronto in addition to almost 1500 restaurants, impeccable nightlife options and word-class public transportation. With over 12 buses, 7 streetcar lines and access to the Yonge Street subway line, residents can experience all that Toronto has to offer without the hassle of a car.
Church-Yonge Corridor
Walk Score: 98, Transit Score: 99
Just like its Bay Street counterpart, residents of this Toronto neighbourhood benefit from convenience at their doorstep. With a near perfect walk score, daily errands from your condo will not require much more than your two feet; the area boasts enough restaurants, bars and coffee shops nearby that you'd walk past an average of 43 of them in just under 5 minutes. Beyond eateries, one can also browse trendy shops on Church street, take a stroll through Allan gardens park or enjoy a live theatre performance, ending the night at Toronto's iconic Yonge-Dundas Square that's at the heart of the Church-Yonge Corridor. Not up for a walk? Not a problem, as the Church-Yonge corridor also offers amazing subway and streetcar access, making it real easy for you to explore neighbouring areas or nearby parks on a whim.
Kensington-Chinatown
Walk Score: 97, Transit Score: 100
Coming in third place is this eclectic neighborhood located on the western side of downtown Toronto, made up of two distinct areas; Kensington is best known for its unique offerings of fresh food markets, vintage clothing boutiques, restaurants, bars, spice markets, music shops and a lively art community. Meanwhile, Chinatown is an ethnic enclave offering up some of the best Asian restaurants, grocery stores, small businesses and variety stores in Toronto. This location truly has everything a resident could want and more, meeting the definition for a Walker's Paradise and offering a plethora of options when it comes to public transport. With OCAD and Queen Street West around the corner, it's Toronto's prime location for students, international immigrants, young artists or anyone just looking for a little sparkle in this concrete jungle.
University
Walk Score: 97, Transit Score: 100
A popular spot among, you guessed it, university students, this Toronto neighborhood has all of its residents' needs located a stone's throw away. Whether you're picking up a quick lunch before class, hunkering down at the library with an extra large coffee, or meeting a friend for dinner on Queen West, everything is a quick walk away and perfect for those without a car. Easy and accessible, the area also features one of the largest green spaces in the city, with Queen's Park providing interlocking courtyards that form a distinct region of urban parkland in the city's downtown core. Those with access to a bike can also enjoy the ease of running daily errands with the help of some wheels, with the area boasting a perfect bike score as well. Residents who want to escape the university campus bubble can easily do so with the variety of streetcars and buses available. Need to go even further? That's not a problem when you're in the heart of the downtown core and have access to the two main subway lines that run through this vibrant city.
Palmerston-Little Italy
Walk Score: 95, Transit Score:98
Rounding out our list is Palmerstone-Little Italy, an area known to be a little more mature and perhaps a good pick for those looking to avoid the loud hustle and bustle of the core. Located between Bloor Street West and College Street, and Bathurst Street and Dovercourt Road, the area is primarily residential in nature. However, that's not a knock on its appeal as a potential spot to live, as the neighbourhood still offers many conveniences, with it being home to a collection of enticing shops, interesting food vendors, delightful murals and charming green spaces. With a solid 98 transit score, it's a quick commute downtown, with the area also offering Zipcar rentals for those who want to venture out a little more. The design of this location is perfect for older couples looking for more spacious homes while still remaining close to all the services they need, or families with school-age kids who still want convenience but with a more peaceful backyard.
Whether you're buying real estate for the long run or just looking to rent out a condo for a short stint in the city, Toronto offers a great number of neighbourhoods to choose from!